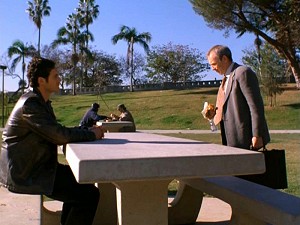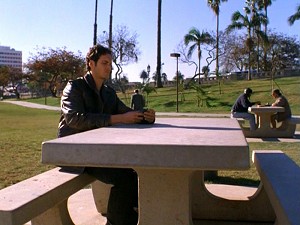 The feature film Detonator stars Randall Batinkoff, Elizabeth Berkley, and Bokeem Woodbine as federal investigators who are trying to stop a terrorist who is setting off explosions all over downtown Los Angeles.
The scene pictured on the left was known as EXT. PARK after being rewritten from its original location of EXT. BEACH PARKING LOT. It was shot in MacArthur Park at Wilshire Boulevard and Park View Street in Los Angeles, California, on Tuesday, 19 March 2002.
Needing two additional background extras, the 1st Assistant Director, Miloš Milićević, grabbed two of the crew to place in the scene as chess players. I am on the right in the green hat, brown jacket, and blue shorts. The other guy on the left in the navy blue sweater was the Set Medic, Tony Hill. We were both hiding our production walkie-talkies from being visible on camera!